Top 7 Things to Think About When Buying a Home as a Pet Owner
Posted by Jason Lash on Thursday, October 6, 2022 at 5:49 AM
By Jason Lash / October 6, 2022
Comment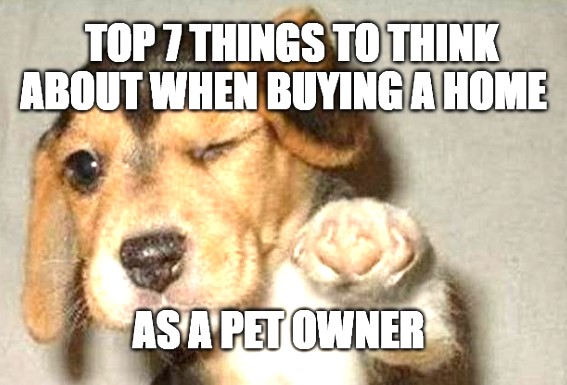 People often consider factors concerning them and their family's needs when they buy a home. But what about the needs of your furry friends? Have you ever thought ahead to how this affects pets in general, including those who are just visiting or living with others at present time?"

A house isn't really complete without its four legged companion - so why not make sure it's safe for everyone involved! Here we'll look into 7 things that should be considered during purchasing process; whether buying as owner/renter
Fenced in Back Yard
If you're a dog owner, then the safety of your pet is extremely important. A fence around their backyard can make them feel more at ease knowing that if they ever wander off or get lost in any way - there will be no chance for anything bad to happen because its own protection from animals outside as well!
Inside Space
When choosing the perfect home for yourself and your pets, there are many factors to consider. One of those is how much space you'll need in order accommodate not only their needs but also those of other members within your household as well! A Great Dane will require more room than a chihuahua because they're larger animals with different mobility restrictions; however it's important that all individuals be comfortable living under one roof so give them what they desire while making sure everyone can live happily together.
Floring
Your pets may be cute, but between the claws and fur they can leave behinds a mess on your flooring. Carpet is not only hard to keep clean because of all these stains that just won't seem themselves out; it also doesn't have much durability making sure you don't need an upgrade soon after buying new furniture for them! Instead consider luxury vinyl plank floors which come in many styles including ones mimicking hardwood - perfect if you're looking pasty-Pedro's house every time he has friends over :)

Sidewalks and/or Trails
It is important to consider the features and amenities within your new home, but you should also look at those outside of it. When considering which homes would suit us best as a family pet- reactively ask yourself if there are sidewalks in place? Is their current walkway well maintained? Research show that having access for pets' walking exercise can make all parties happier when living together!
How Close are Daycare's and Kennels
When you buy a house as an owner, it's important to think about all the things that your new home will need. Are there enough walks for our furry friend? What kind of food does he or she like best (and least)? Is there space in front yards where they can run around without getting into trouble on busy streets? You might also want to consider local doggy daycare centers so those times when their humans are out of town aren't spent lonely at home with just them.
Nearby Veterinarians
When you find a home that's perfect for both pet and owner, be sure to check with your vet. Even though we all hope our pets stay healthy in their new homes, accidents can happen- which means having an emergency veterinarian nearby will ensure getting back on track as soon as possible!
Laws and Home Owners Association Rules
Unfortunately, it's not uncommon for pet laws to be different in every city. Most neighborhoods and HOA associations have restrictions on the kind of pets that can live there - which often includes breed limitations as well! You'll want make sure you know about these beforehand so when moving into your new home don't get caught off guard by costly fees or being forced out because someone else had more animals than allowed under their contract
Ada Homes for Sale, Allegan Homes for Sale, Belding Homes for Sale, Byron Center Homes for Sale, Caledonia Homes for Sale, Cedar Springs Homes for Sale, Comstock Park Homes for Sale, Downtown Grand Rapids Condos for Sale, East Grand Homes for Sale, Featured Listings, Forest Hills Homes for Sale, Grandville Homes for Sale, Grand Haven Homes for Sale, Grand Rapids Condos for Sale, Grand Rapids Homes for Sale, Greenville Homes for Sale, Holland Homes for Sale, Hudsonville Homes for Sale, Jenison Homes for Sale, Kenowa HIlls Homes for Sale, Kent City Homes for Sale, Kalamazoo Homes for Sale, Kentwood Homes for Sale, Lakefront Homes for Sale, Lake Michigan Homes for Sale, Lowell Homes for Sale, Newaygo Homes for Sale, Muskegon Condos for Sale, Northview School District Homes for Sale, Norton Shores Homes for Sale, Paw Paw Homes for Sale, Portage Homes for Sale, Rockford Homes for Sale, Sparta Homes for Sale, Tri County Homes for Sale, Vicksburg Homes for Sale, Walker Homes for Sale, Wayland Homes for Sale, Wyoming Home for Sale,
Zeeland Homes for Sale

Search for Condos

Byron Center Condos for Sale, Caledonia Condos for Sale, Downtown Grand Rapids Condos for Sale, Forest Hills Condos for Sale, Grandville Condos for Sale, Grand Rapids Condos for Sale, Jenison Condos for Sale, Kentwood Condos for Sale, Lowell Condos for Sale, Rockford Condos for Sale, Walker Condos for Sale, Wyoming Condos for Sale

Community Information

Ada Realtor, Belding Realtor, Byron Center Realtor, Caledonia Realtor, Cedar Springs Realtor, Comstock Park Realtor, East Grand Rapids Realtor, Forest Hills Realtor, Grandville Realtor, Grand Haven Realtor, Grand Rapids Realtor, Greenville Realtor, Holland Realtor, Hudsonville Realtor, Jenison Realtor, Kalamazoo Realtor, Kentwood Realtor, Lowell Realtor, Paw Paw Realtor, Rockford Realtor, Sparta Realtor, Walker Realtor, Wyoming Realtor, Zeeland Realtor,
Grand Rapids Foreclosures, Preferred Providers, Blog