Mortgages and Student Loans
Posted by Jason Lash on Monday, October 3, 2022 at 3:23 PM
By Jason Lash / October 3, 2022
Comment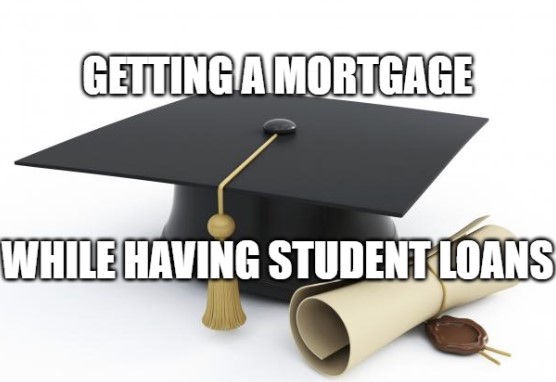 Student loans are a common form of debt, but they shouldn't stop you from buying your first home. In fact the key to getting approved for an mortgage with student loan payments as well as other types is understanding what lenders look at when deciding whether or not they will approve someone's application and how best can make sure that there aren't any mistakes in this process!
In order to get the best possible rate on your loans, it is imperative that you maintain a healthy monthly payment. The lender will look at all debt obligations including those from other creditors such as credit cards or mortgage payments in addition to how much money can be used for interest-only loan products if desired by clients who might not want their own income tax burden weighing down too heavily upon them during hard economic times. No matter what type of consumer lending option they choose though there's always room only so far away until someone reaches his/her limits!
To get the best interest rate and terms, it is important to know how much debt you can have. Lenders will only allow a maximum DTI (Debt-to-Income) of 43%, so no more than that percentage must be covered by your mortgage payment as well as student loans or other outstanding debts like credit card bills!
Paying off small loans can help you qualify for a mortgage and get out from under your student debt faster.
When consolidating federal student loans, you might also be eligible for repayment plans that keep your payments affordable. One such plan is Income-Based Repayment (IBR), which bases your monthly payment on the amount of income reported by borrowers in relation to their family size and debt burden when they take out these types mortgages after graduating college or holding other jobs during school breaks.

The IBR program enables individuals with low incomes who have obtained multiple Types A/B loan disbursements from different financial institutions since enrolling as an undergraduate at least once between September 2006 until July 2010 -to qualify.
There are a few ways you can save money for your down payment. One of them is by making sure that the lender understands how much risk they take on with each client, and as such will be more willing to accept higher DTIs from those who put more into an investment property vs just renting out their home or condo themselves at market rate rather than investing in something new construction where costs could go up drastically over time due not only construction materials but also labor rates which would leave buyers high.
I always encourage my clients to think outside the box when it comes time for them make their dream a reality. You don't have gain access and start saving money right away, but you can increase your chances by getting an extra income or even starting on side gig! Watch those dollars add up quick with these tip-top strategies from yours truly - just ask me how later today (perhaps over email)?
If you have good credit, don't be afraid to take on some small loans and consolidations. For example, instead of having multiple debts with different interest rates or repayment plans continuum down into just one high-interest loan that will add extra stress onto an already difficult situation!
If you're looking to buy a house, it's important that your interest rates aren't too high and stay as low of an amount on monthly payments. This will keep the debt-to income ratio under control so we can help get approval for financing through banks or other lenders in order make sure everything goes smoothly with buying property.
Homeownership is within reach for those with student loan debt! Mortgage programs help first-time homebuyers who are struggling economically and have higher levels of mortgage lenders that specialize in helping these types of people. The key to getting approved isn't just having good credit; it also depends on your income, down payment amount, property taxes paid each year (or lack thereof), etc., which can all be factors when considering whether you're qualified or not according the lender's requirements--but don't worry about this too much because there still ways around such rigorous standards if need arises
Ada Homes for Sale, Allegan Homes for Sale, Belding Homes for Sale, Byron Center Homes for Sale, Caledonia Homes for Sale, Cedar Springs Homes for Sale, Comstock Park Homes for Sale, Downtown Grand Rapids Condos for Sale, East Grand Homes for Sale, Featured Listings, Forest Hills Homes for Sale, Grandville Homes for Sale, Grand Haven Homes for Sale, Grand Rapids Condos for Sale, Grand Rapids Homes for Sale, Greenville Homes for Sale, Holland Homes for Sale, Hudsonville Homes for Sale, Jenison Homes for Sale, Kenowa HIlls Homes for Sale, Kent City Homes for Sale, Kalamazoo Homes for Sale, Kentwood Homes for Sale, Lakefront Homes for Sale, Lake Michigan Homes for Sale, Lowell Homes for Sale, Newaygo Homes for Sale, Muskegon Condos for Sale, Northview School District Homes for Sale, Norton Shores Homes for Sale, Paw Paw Homes for Sale, Portage Homes for Sale, Rockford Homes for Sale, Sparta Homes for Sale, Tri County Homes for Sale, Vicksburg Homes for Sale, Walker Homes for Sale, Wayland Homes for Sale, Wyoming Home for Sale,
Zeeland Homes for Sale

Search for Condos

Byron Center Condos for Sale, Caledonia Condos for Sale, Downtown Grand Rapids Condos for Sale, Forest Hills Condos for Sale, Grandville Condos for Sale, Grand Rapids Condos for Sale, Jenison Condos for Sale, Kentwood Condos for Sale, Lowell Condos for Sale, Rockford Condos for Sale, Walker Condos for Sale, Wyoming Condos for Sale

Community Information

Ada Realtor, Belding Realtor, Byron Center Realtor, Caledonia Realtor, Cedar Springs Realtor, Comstock Park Realtor, East Grand Rapids Realtor, Forest Hills Realtor, Grandville Realtor, Grand Haven Realtor, Grand Rapids Realtor, Greenville Realtor, Holland Realtor, Hudsonville Realtor, Jenison Realtor, Kalamazoo Realtor, Kentwood Realtor, Lowell Realtor, Paw Paw Realtor, Rockford Realtor, Sparta Realtor, Walker Realtor, Wyoming Realtor, Zeeland Realtor,
Grand Rapids Foreclosures, Preferred Providers, Blog