Love and Live in Rockford Michigan
Posted by Jason Lash on Friday, October 7, 2022 at 3:35 AM
By Jason Lash / October 7, 2022
Comment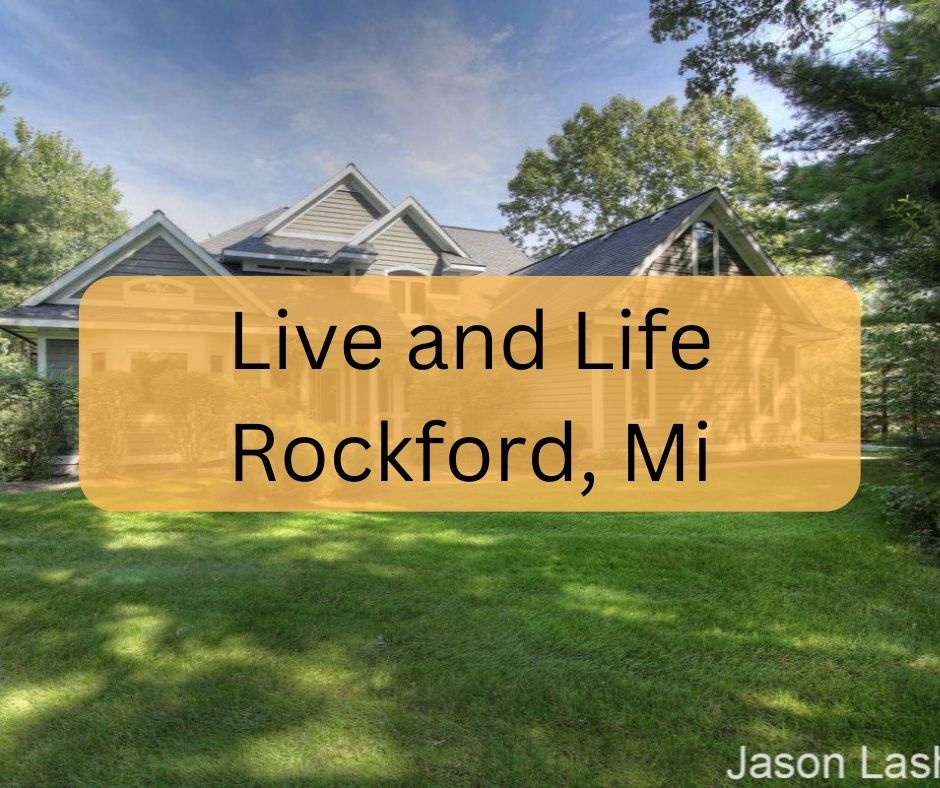 Grand Rapids is a bustling metropolis that offers visitors an overwhelming amount of opportunities. However if you're looking for something different, then look no further than the quaint little town called Rockford which sits just 15 minutes north on I-96! The downtown area has all your typical small-town charm with its historic buildings and scenic riverbanks lined by lush trees while nearby lakes provide abundant recreation time in nature's beauty; there really isn't anything not to love about this place.
History
The town of Rockford, Michigan was first settled by Marlin Hunter in 1842. The community of Laphamville was founded in 1845 by a group who wanted to farm the land they had purchased. The first dwelling built at this settlement became home for yet another family around 1865, and it wasn't until much later on that we saw any other development happen here. In 1866 it was incorporated as the Village of Rockford. Rockford, MI was orriginally a lumber town but soon turned into a shoe manufacturing community by 1905. In 1935 it was incorporated as a city.
Downtown Rockford
The downtown shopping district of Rockford is a wonderful step back in time. And while it does not run seven city blocks, you will be greeted with smiles from merchants as they welcome their families into these family-owned businesses that have been around for decades!
Art in Rockford
The Rockford Area Museum tells the story of this city from its early days as a logging community. Historic artifacts and video memories shine light on every aspect of local life with an exhibits that include original Medal Of Honor awarded to John Sjogren, who was commended for his heroic actions against Japanese in 1945 before you leave premises pick up walking tour map downtown's historic buildings admission is free.
Where to Eat in Rockford
Bridge Street Burger Shack offers fresh, juicy beef burgers with the perfect toppings at an affordable price. With vegan and vegetarian options available as well, this throwback from days of yore will satisfy any appetite - in fact you'll want one for every bite!

The Corner Bar is a family-friendly establishment that has been around since 1935. The historic neon sign and "Hot Dog Hall of Fame" are still present, as well as its friendly neighborhood atmosphere where you can enjoy some local beers with your hot dogs!
Flo's Wood Fired Pizzeria is a collaboration between Sicilian-born brothers Daniele and Davide Uccello, who debuted this concept in Rockford five years ago. The restaurant has since opened other locations around Michigan with their signature pizzas winning competitions across the Midwest! Other authentic dishes on offer include antipasti ( Italian word meaning " appetizer"), pastas , sandwiches - all made from scratch using only high quality ingredients whenever possible.
Roguery River Tavern is a kid friendly sports bar, with an extensive food menu as well 15 television sets playing all your favorite sport. From live music every Tuesday to games machines free popcorn!
Stop by Flavors for handrolled ice cream and crepes made with care while The Sweet Tooth provides delicious homemade caramel corn as well! For something more refreshing try one of many flavors at The Pump House – including 18 types that come straight from their own freezer--you won't regret it because what else would be better than an icy cold treat?
Rockford's Brewing Company has been recognized for their excellent work in both taste and production. They were named Small Brewpub of the Year at this year's Great American Beer Festival, as well they should be! Five out six beers that we serve here on our menu got honored by being internationally honored with World Expo medals too - not bad considering how much love goes into each batch from start to finish (and these aren't just any old batches either). Customers can enjoy fresh food made-to order using locally sourced ingredients.
If you have more questions about Rockford, Michigan please reach out. Below is the most updated is of real estate for sale in Rockford, MI.
Ada Homes for Sale, Allegan Homes for Sale, Belding Homes for Sale, Byron Center Homes for Sale, Caledonia Homes for Sale, Cedar Springs Homes for Sale, Comstock Park Homes for Sale, Downtown Grand Rapids Condos for Sale, East Grand Homes for Sale, Featured Listings, Forest Hills Homes for Sale, Grandville Homes for Sale, Grand Haven Homes for Sale, Grand Rapids Condos for Sale, Grand Rapids Homes for Sale, Greenville Homes for Sale, Holland Homes for Sale, Hudsonville Homes for Sale, Jenison Homes for Sale, Kenowa HIlls Homes for Sale, Kent City Homes for Sale, Kalamazoo Homes for Sale, Kentwood Homes for Sale, Lakefront Homes for Sale, Lake Michigan Homes for Sale, Lowell Homes for Sale, Newaygo Homes for Sale, Muskegon Condos for Sale, Northview School District Homes for Sale, Norton Shores Homes for Sale, Paw Paw Homes for Sale, Portage Homes for Sale, Rockford Homes for Sale, Sparta Homes for Sale, Tri County Homes for Sale, Vicksburg Homes for Sale, Walker Homes for Sale, Wayland Homes for Sale, Wyoming Home for Sale,
Zeeland Homes for Sale

Search for Condos

Byron Center Condos for Sale, Caledonia Condos for Sale, Downtown Grand Rapids Condos for Sale, Forest Hills Condos for Sale, Grandville Condos for Sale, Grand Rapids Condos for Sale, Jenison Condos for Sale, Kentwood Condos for Sale, Lowell Condos for Sale, Rockford Condos for Sale, Walker Condos for Sale, Wyoming Condos for Sale

Community Information

Ada Realtor, Belding Realtor, Byron Center Realtor, Caledonia Realtor, Cedar Springs Realtor, Comstock Park Realtor, East Grand Rapids Realtor, Forest Hills Realtor, Grandville Realtor, Grand Haven Realtor, Grand Rapids Realtor, Greenville Realtor, Holland Realtor, Hudsonville Realtor, Jenison Realtor, Kalamazoo Realtor, Kentwood Realtor, Lowell Realtor, Paw Paw Realtor, Rockford Realtor, Sparta Realtor, Walker Realtor, Wyoming Realtor, Zeeland Realtor,
Grand Rapids Foreclosures, Preferred Providers, Blog