Life in Alger Heights, Grand Rapids Michigan
Posted by Jason Lash on Tuesday, September 27, 2022 at 4:14 AM
By Jason Lash / September 27, 2022
Comment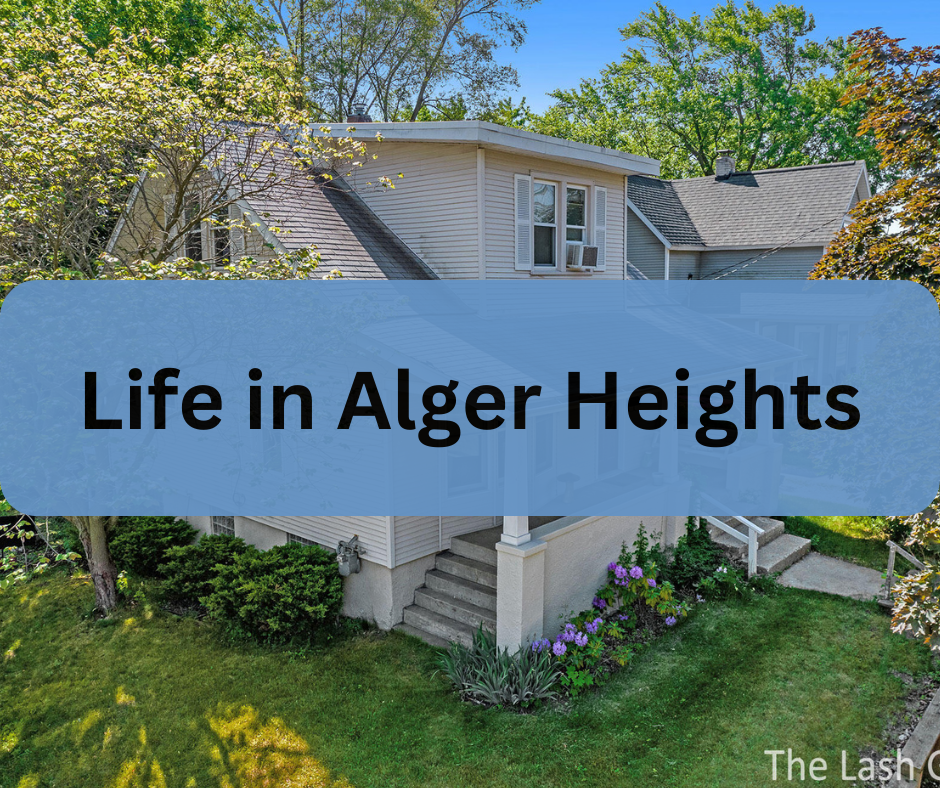 Alger Heights is the perfect spot for Grand Rapid's living. It's considered an "up and coming" neighborhood, with a variety of local businesses that keep it interesting; historic homes dotting every block (even if they're not necessarily large or expensive), walkable communities where people go after work to enjoy their culture instead on watching TV all day long like we used too when were younger... And then there are those special events including Halloween 5k Run - which happens right around this time each year!
Alger Heights is a diverse community where you can find people from many different backgrounds. It's not just white collar professionals or blue-collar workers who live here, but instead it includes everything in between! Notable residents include people of all ages looking for an affordable place to live with their loved ones and have access too great schools and markets right outside of town.
The Old Goat is a hidden gem of an eatery in the heart of Alger Heights. With its modern, artistic architecture and vibe it has not only great food but also indoor seating as well outdoor space for dining which means that there's always something exciting happening here! For more information on what they offer check out their website or Facebook page- you won't regret it!! This place houses one Grand Rapid's favorite chicken restaurant: Great White Fish Chicken (you can find all types from hush puppies to perch). If your stomach needs Slayerin' then head over Real Food cafe where we serve up some yummy breakfasts like pancakes.
Grocery stores are a short walk from many homes in this area. In addition to offering fresh American and imported foods such as Russian, Romanian or Middle Eastern cuisine you will find local favorites like Harvest Health Foods with their selection of organic produce [see image below]. For hard-to find liquor drinks check out Alger's Quick Stop who has an extensive beer list along side all other types including Ryan & Hart Party Store known for its large variety when it comes down alcohol choices.
What's not to love about Alger Heights? The neighborhood has a great selection of parks, including Cheseboro Park and MacKay-Jaycee park. If you're looking for more active pursuits like hiking or biking then head over the Plaster Creek Trail which is perfect after an enjoyable day spent exploring this beautiful area!
The Alger Heights Neighborhood Association is dedicated to making sure that their neighborhood has everything it needs, from events and updates. They sponsor a lot of different things for everyone in the community- whether they are just stopping by or living there full time!
The most recent example being how AHNA helped organize Family Movie Night which celebrates National Night Out every August 1st at 6:30pm sharp; this event features free screenings on site while also providing activities geared towards kids including games hosted by local organizations like Growing Together Worldwide LLC., interactive art projects created collaboratively between members
Ada Homes for Sale, Allegan Homes for Sale, Belding Homes for Sale, Byron Center Homes for Sale, Caledonia Homes for Sale, Cedar Springs Homes for Sale, Comstock Park Homes for Sale, Downtown Grand Rapids Condos for Sale, East Grand Homes for Sale, Featured Listings, Forest Hills Homes for Sale, Grandville Homes for Sale, Grand Haven Homes for Sale, Grand Rapids Condos for Sale, Grand Rapids Homes for Sale, Greenville Homes for Sale, Holland Homes for Sale, Hudsonville Homes for Sale, Jenison Homes for Sale, Kenowa HIlls Homes for Sale, Kent City Homes for Sale, Kalamazoo Homes for Sale, Kentwood Homes for Sale, Lakefront Homes for Sale, Lake Michigan Homes for Sale, Lowell Homes for Sale, Newaygo Homes for Sale, Muskegon Condos for Sale, Northview School District Homes for Sale, Norton Shores Homes for Sale, Paw Paw Homes for Sale, Portage Homes for Sale, Rockford Homes for Sale, Sparta Homes for Sale, Tri County Homes for Sale, Vicksburg Homes for Sale, Walker Homes for Sale, Wayland Homes for Sale, Wyoming Home for Sale,
Zeeland Homes for Sale

Search for Condos

Byron Center Condos for Sale, Caledonia Condos for Sale, Downtown Grand Rapids Condos for Sale, Forest Hills Condos for Sale, Grandville Condos for Sale, Grand Rapids Condos for Sale, Jenison Condos for Sale, Kentwood Condos for Sale, Lowell Condos for Sale, Rockford Condos for Sale, Walker Condos for Sale, Wyoming Condos for Sale

Community Information

Ada Realtor, Belding Realtor, Byron Center Realtor, Caledonia Realtor, Cedar Springs Realtor, Comstock Park Realtor, East Grand Rapids Realtor, Forest Hills Realtor, Grandville Realtor, Grand Haven Realtor, Grand Rapids Realtor, Greenville Realtor, Holland Realtor, Hudsonville Realtor, Jenison Realtor, Kalamazoo Realtor, Kentwood Realtor, Lowell Realtor, Paw Paw Realtor, Rockford Realtor, Sparta Realtor, Walker Realtor, Wyoming Realtor, Zeeland Realtor,
Grand Rapids Foreclosures, Preferred Providers, Blog