Grand Rapids Real Estate Update July 2023
Posted by Jason Lash on Sunday, July 16, 2023 at 10:08:56 AM
By Jason Lash / July 16, 2023
Comment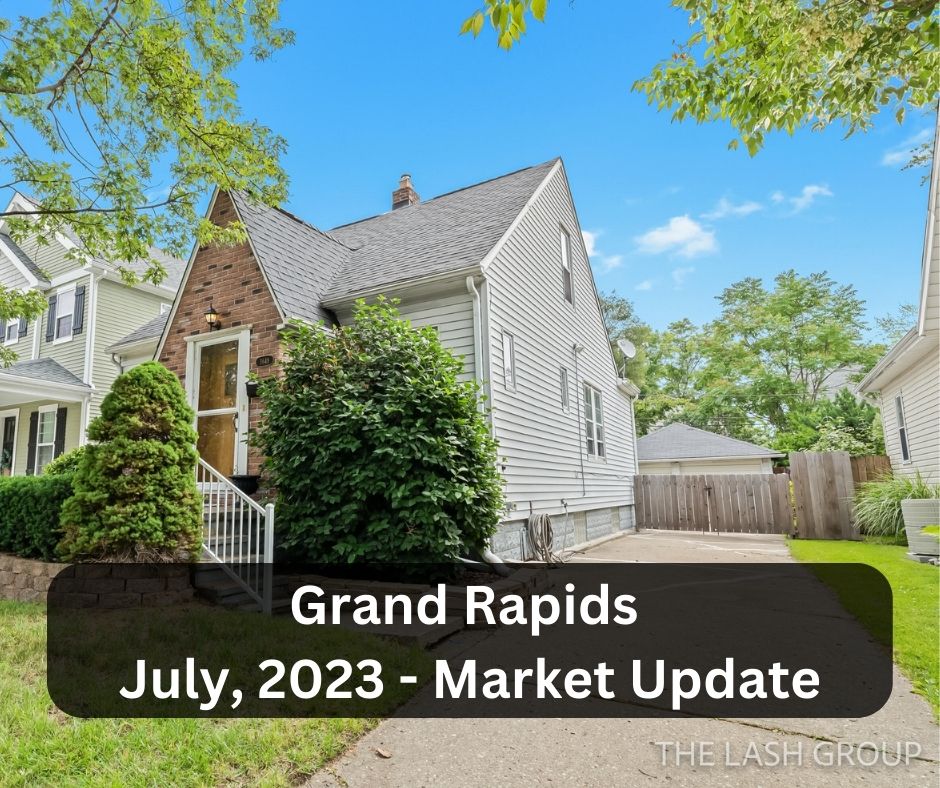 The Current Status of the Grand Rapids Real Estate Market
In recent years, the real estate market in Grand Rapids, Michigan has experienced a dynamic shift. As we navigate through 2023, it's clear that these trends are continuing to evolve. This article will provide an overview of the current status of the Grand Rapids real estate market, drawing from the latest data and expert analysis.
Market Overview
As of June 2023, the number of homes for sale in Grand Rapids has reached 9431. Interestingly, there has been a decrease in the number of homes on the market between May and June of this year1. Despite this decline in inventory, home prices have increased by 5.3% compared to last year, selling at a median price.
In-Depth Market Trends
The average home value in Grand Rapids currently stands at $267,6163, a figure that has risen by 1.0% over the past year3. Homes in this area are selling quickly, going to pending status in around just six days3.
In fact, the median listing home price in Grand Rapids as of June 2023 was $325K, trending up 12.5% year-over-year4. This indicates that despite a decrease in inventory, demand for homes remains high, which is driving up home prices.
A Seller's or Buyer's Market?
The Grand Rapids real estate market leans towards being a buyer's market. In June 2023, homes sold for 3.12% above asking price on average5. This suggests that the supply of homes is greater than the demand for homes5.
Investment Opportunities
Despite these trends, Grand Rapids remains an attractive place to invest. The city has seen some of the greatest home appreciation rates in the nation over the past decade. This, coupled with the fact that Grand Rapids is poised to attract more people and have strong demand for housing, suggests that investing in rental property in this market can yield a favorable return on investment6.
Looking Ahead
The Grand Rapids real estate market shows no signs of slowing down. Despite fluctuations in inventory and home prices, the market remains robust. For those considering buying, selling, or investing in the Grand Rapids area, staying informed about these trends is key to making the best real estate decisions.
With its strong housing market and potential for investment, Grand Rapids continues to be a promising location for both home buyers and real estate investors alike.
Listen to Our Radio Spots
Ada Homes for Sale, Allegan Homes for Sale, Belding Homes for Sale, Byron Center Homes for Sale, Caledonia Homes for Sale, Cedar Springs Homes for Sale, Comstock Park Homes for Sale, Downtown Grand Rapids Condos for Sale, East Grand Homes for Sale, Featured Listings, Forest Hills Homes for Sale, Grandville Homes for Sale, Grand Haven Homes for Sale, Grand Rapids Condos for Sale, Grand Rapids Homes for Sale, Greenville Homes for Sale, Holland Homes for Sale, Hudsonville Homes for Sale, Jenison Homes for Sale, Kenowa HIlls Homes for Sale, Kent City Homes for Sale, Kalamazoo Homes for Sale, Kentwood Homes for Sale, Lakefront Homes for Sale, Lake Michigan Homes for Sale, Lowell Homes for Sale, Newaygo Homes for Sale, Muskegon Condos for Sale, Northview School District Homes for Sale, Norton Shores Homes for Sale, Paw Paw Homes for Sale, Portage Homes for Sale, Rockford Homes for Sale, Sparta Homes for Sale, Tri County Homes for Sale, Vicksburg Homes for Sale, Walker Homes for Sale, Wayland Homes for Sale, Wyoming Home for Sale,
Zeeland Homes for Sale

Search for Condos

Byron Center Condos for Sale, Caledonia Condos for Sale, Downtown Grand Rapids Condos for Sale, Forest Hills Condos for Sale, Grandville Condos for Sale, Grand Rapids Condos for Sale, Jenison Condos for Sale, Kentwood Condos for Sale, Lowell Condos for Sale, Rockford Condos for Sale, Walker Condos for Sale, Wyoming Condos for Sale

Community Information

Ada Realtor, Belding Realtor, Byron Center Realtor, Caledonia Realtor, Cedar Springs Realtor, Comstock Park Realtor, East Grand Rapids Realtor, Forest Hills Realtor, Grandville Realtor, Grand Haven Realtor, Grand Rapids Realtor, Greenville Realtor, Holland Realtor, Hudsonville Realtor, Jenison Realtor, Kalamazoo Realtor, Kentwood Realtor, Lowell Realtor, Paw Paw Realtor, Rockford Realtor, Sparta Realtor, Walker Realtor, Wyoming Realtor, Zeeland Realtor,
Grand Rapids Foreclosures, Preferred Providers, Blog