Fix and Flip Loans
Posted by Jason Lash on Wednesday, October 5, 2022 at 3:52 AM
By Jason Lash / October 5, 2022
Comment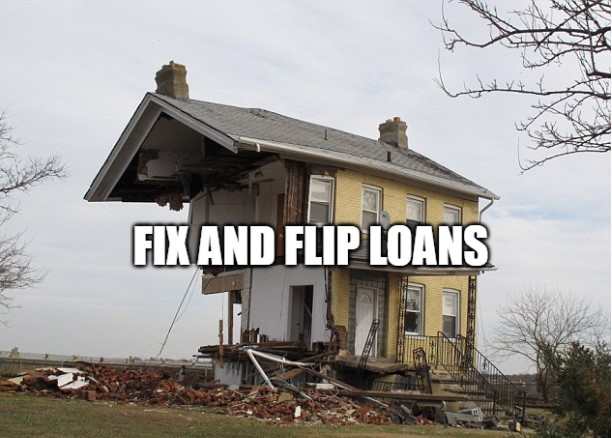 WHAT ARE FIX AND FLIP LOANS?
Fix and flip loans are a type of mortgage that can be used to buy, fix up an sell for more. These types mortgages work well if you plan on investing in property because they provide higher returns than traditional first mortgages.
The "fix" part means making repairs or improvements such as updating HVAC systems while the flippable side allows investors who don't want too much hassle with maintaining their homes after purchase time comes around again - either way it's all about getting value out there!
How Much of a Loan Can I Get?
Though the best terms are usually reserved for experienced investors with excellent credit and high down payment, you don't need to have a history of successful real estate investments in order get this kind loan. Loans available both beginner or professional demographics that want participate more fully by taking on equity risks while still having access various financial incentives at their disposal like lower rates than banks offer otherwise - as well as those looking forward towards eventually selling off what they've purchased just so someone else will pay them back! Loan amounts typically fall between $200K-$2 MM depending on the project and the borrower.
The Loan amount is determined by assessing the estimated after-repair value, called ARV in short. We fund 75% of standard rehab and 70%. The costs can include hard or soft expenses like permits to make sure your home looks great again!
You can also get a quick cash injection with these short-term loans. There's interest only payment for 12 months and fixed rate. You might be able to use it as an individual or even company (LLC).
FIX AND FLIP LOANS WITH BAD CREDIT
The great thing about hard money loans is that you don't need good or higher credit. You just need an application, and we'll take care of everything else!

A minimum score of 620 will ensure your approval- even if it's not the best time for borrowers with less than perfect records in debt management - but there are still opportunities available to those looking beyond traditional methods like salary alone.
The FHA 203k loan is a great way to get your home re-built, and it can be an excellent option for those with bad credit. This type of mortgage allows you borrow between $5K - 35 K depending on how much money they have available in order put down as little 3%. There's also another program called Home Style Renovation Loans offered by Fannie Mae which offers tax benefits too!
Ada Homes for Sale, Allegan Homes for Sale, Belding Homes for Sale, Byron Center Homes for Sale, Caledonia Homes for Sale, Cedar Springs Homes for Sale, Comstock Park Homes for Sale, Downtown Grand Rapids Condos for Sale, East Grand Homes for Sale, Featured Listings, Forest Hills Homes for Sale, Grandville Homes for Sale, Grand Haven Homes for Sale, Grand Rapids Condos for Sale, Grand Rapids Homes for Sale, Greenville Homes for Sale, Holland Homes for Sale, Hudsonville Homes for Sale, Jenison Homes for Sale, Kenowa HIlls Homes for Sale, Kent City Homes for Sale, Kalamazoo Homes for Sale, Kentwood Homes for Sale, Lakefront Homes for Sale, Lake Michigan Homes for Sale, Lowell Homes for Sale, Newaygo Homes for Sale, Muskegon Condos for Sale, Northview School District Homes for Sale, Norton Shores Homes for Sale, Paw Paw Homes for Sale, Portage Homes for Sale, Rockford Homes for Sale, Sparta Homes for Sale, Tri County Homes for Sale, Vicksburg Homes for Sale, Walker Homes for Sale, Wayland Homes for Sale, Wyoming Home for Sale,
Zeeland Homes for Sale

Search for Condos

Byron Center Condos for Sale, Caledonia Condos for Sale, Downtown Grand Rapids Condos for Sale, Forest Hills Condos for Sale, Grandville Condos for Sale, Grand Rapids Condos for Sale, Jenison Condos for Sale, Kentwood Condos for Sale, Lowell Condos for Sale, Rockford Condos for Sale, Walker Condos for Sale, Wyoming Condos for Sale

Community Information

Ada Realtor, Belding Realtor, Byron Center Realtor, Caledonia Realtor, Cedar Springs Realtor, Comstock Park Realtor, East Grand Rapids Realtor, Forest Hills Realtor, Grandville Realtor, Grand Haven Realtor, Grand Rapids Realtor, Greenville Realtor, Holland Realtor, Hudsonville Realtor, Jenison Realtor, Kalamazoo Realtor, Kentwood Realtor, Lowell Realtor, Paw Paw Realtor, Rockford Realtor, Sparta Realtor, Walker Realtor, Wyoming Realtor, Zeeland Realtor,
Grand Rapids Foreclosures, Preferred Providers, Blog