Tami Osgood
AHWD, C2EX, DEFI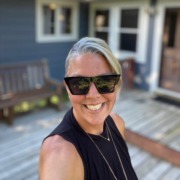 License Number:
6501431324
Looking for a house?  Wondering how much your home is worth?  Let Tami guide you through the process!  Tami is an agent working in the West Michigan area.  She grew up in a small town (Fountain, MI) about 20 min. from Lake Michigan.  During college, she worked training horses and giving riding lessons to multiple students.  After graduating with her master's degree from GVSU, she went on to teach adults English at GVSU for almost 15 yrs.  
Tami is now a full-time Realtor® working in multiple markets in and around Grand Rapids, MI.  She lives in NE Kent County and enjoys going on her pontoon every chance she gets!  Lincoln Lake is where she and her family call home.  Her boys, Hunter (17) and Jack (12) love to help her and her husband, Eddy, with all the homesteading chores.  They have made their small lot into a 'farm' consisting of 28 chickens, two 120+lb  rescue dogs, and tons of garden spaces for growing their own food.   
Tami is excellent at communicating with her clients and looks forward to answering any of your questions regarding the real estate market.  She is an expert who can guide you through each step! 
Tami definitely keeps the 'Real' in real estate