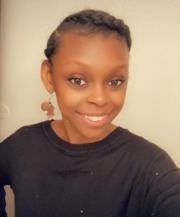 So here the deal.... Briana is an Army Brat, who was born in Tacoma Washington. From there, her family moved to Cleveland OH, Lorain Ohio, then to Lansing Michigan.
During her life as Michigander she graduated high school in Lansing MI, and then graduated from Lansing Community College with her Associates Degree in Business Accounting. During her time at LCC, she had various jobs- being a student orientation leader, working in the science & math department and working in the testing center. After her time at LCC, she transferred to Ferris State University where she got her bachelor's degree in business administration.
Briana moved to Grand Rapids after graduating from Ferris State in 2018, she always thought that Grand Rapids was a beautiful city to be in, so she made this city her home. While in Grand Rapids she had jobs that includes Sales, Marketing, Customer Service, Accounting, and she even became a Licensed Insurance agent.
Whenever she gets a chance, she loves spending time with her family and friends whether that is going on trips, just visiting or being around for the holidays. In 2020, Her dad passed away, it was a very difficult time to get through and to process. Briana's dad was always the one she would talk to about business opportunities and how interested she was in Real Estate. He even brought her to a Real Estate investing class, which got her more excited.
She really has a passion for serving and helping others achieve their goals. She is determined to serve as many people as she can, while providing them with any useful information they need and excellent customer service. She is excited about creating an experience for any home buyer or seller, to have a less stressful transition into finding their perfect house to make into their perfect home.